Warwick science students move mountains by shifting sands.
The mighty forces of nature are suddenly in the hands of Warwick High School students, thanks to this new augmented reality topographic sandbox funded by the Warwick Education Foundation.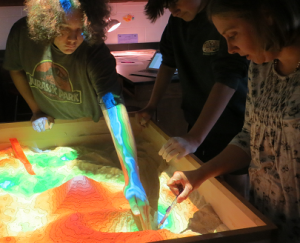 Regular topographic maps are fine for showing the lay of the land at a fixed point in time. But students can now create millions of years of geologic change almost instantly, in three dimensions and in color, just by shifting the sand in the box.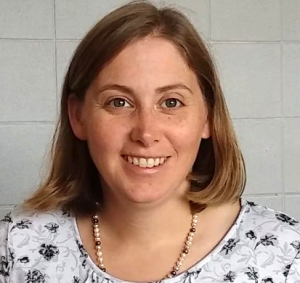 Sarah Martens, one of the teachers behind the new acquisition, says its purpose is to "get students excited to learn about topography and maps."  A computerized projector, mounted above the table, "assesses the distance to the sand and projects a colored topographic map onto it.  When students move the sand, the map almost instantly adjusts to the new topographic features."
As they carve a new river with a fingertip, or scoop out a lake, they "discover the rules of contour lines, analyze cause and effect, and problem solve how water and fertilizers flow across the land. Students can also make it rain and flood."
The new AR sandbox isn't just for Mrs. Martens' Earth Science students. The grant was also awarded to Mrs. Lisa Hochreiter and Mr. William Bond. It's also a great teaching tool for geology, oceanography, animal science, wildlife management, and forestry.
For example, students are using it to study nutrient management. They determine how slope impacts flow rates of sediments and nutrients, which can cause problems (like eutrophication) in local, regional, and national waterways.
Forestry students can learn how changes in a mountain can affect which tree species will grow at different elevations and how their growth rates could change.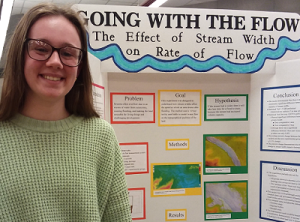 Initial student response "was just pure excitement," Mrs. Martens discovered. "The kids kept trying to play with it when it wasn't quite their turn. So the excitement was just unreal."
Claire Diffenbach, a 10th grade Earth Science student, used the AR sandbox to research her award-winning Science Fair project, "Going With the Flow: The Effect of Stream Widening on Rate of Flow."
Another high school student, in thanking the Foundation, urged us to "keep funding stuff like this so us kids get to use fun tools in class instead of boring old tools."