How Warwick's Dominick Pepo ran the Alaskan Iditarod.
A great story doesn't just tell you about something. It puts you in the Trans-Alaskan boots of the character and sweeps you along with the action. Like the 1,049-mile Iditarod dogsled race from Anchorage to Nome.
That's why Bonfield Elementary teachers Megan Cupo-Fisher and Meghan Young picked Newbery-honored Gary Paulsen for their 6th grade author study last year. By reading his dogsledding memoir Woodsong, students like Dominic ran the Iditarod in their imaginations with Gary and his team. Thanks to an $800 grant from the Warwick Education Foundation, they could also immerse themselves in the 2020 race through interactive and livestream technology.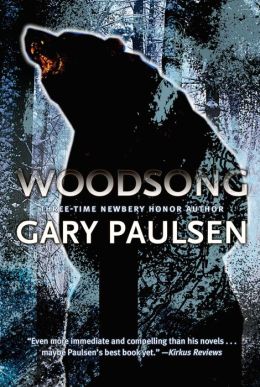 Reading Woodsong became the sixth-graders' springboard for diving into Alaskan culture, geography and woodcraft; learning about dog-sledding, animal care, and the life of a musher; and following the 1,049-mile Iditarod dogsled race day by day.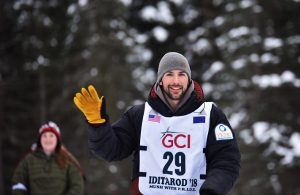 Dominick Pepo, who picked Richie Diehl as the musher he followed, became one of Bonfield's resident experts on the Iditarod.
"Each dogsled racer comes with 13 or 14 dogs," Dominick reports, "and has to take a break every hour or so to make sure the dogs are okay. Every 50 miles or so there's a checkpoint where they examine the dogs.
"At the Iditarod website, if you log in there's a GPS and you can track all the mushers. There's a feature where you can zoom in, and as they move you can follow them and see what time and day and what the checkpoint was and how many dogs they have.
"In class we chose a musher and then watched them go over the 10 days. We'd pretend we're the musher going through the snow and the ice and the rain, the struggles. And find out where they are, what they're doing, if they're taking a rest or not, and what their last checkpoint was. There's also a livestream so we can listen to interviews and cool stuff like that."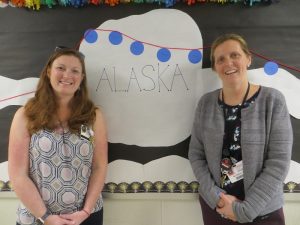 "Each student picked three different mushers to research," Meghan Young reports, "and picked their favorite musher to follow on the trail each day." Students kept individual journals to "track the daily checkpoints, distance traveled, weather, standings, and how many dogs were left. Each day they'd write a narrative as if they were a musher on the trail, modeled after Paulsen's first-hand account in Woodsong."
Megan Cupo-Fisher was delighted with how excited the kids were to follow the race via videos and GPS tracking. "Every day they'd ask, 'Can you put it on? Can you put it on?' It got them more involved in the books. They wanted to know, 'Well, what's another Paulsen book I could read? Does he talk about dogsledding again?' And he does. Another great reason to do an author study."
"The grant gave us the ability to purchase a variety of books," Young says, such as "a picture book by Paulsen connected to dog sledding. Which lets students look at his writing across different genres so they can fully understand an author's style and craft."
If you've got children or grandchildren who might be interested in the Iditarod, keep Woodsong in mind. Gary Paulsen also written Winterdance: The Fine Madness of Running the Iditarod. His three Newbery Honor novels are Dogsong, Hatchet, and The Winter Room.